3/23/2023: The cost of giving care
---
---
Much of the care given to people in Michigan comes from unpaid family members. A series produced by the Southwest Michigan Journalism Collaborative investigates the cost of caregiving. Also: A new arena could bring sports downtown. And hauling sludge is getting expensive.
---
In addition to best writing, our story Finding Peace During War also won first place in the Feature Story category in the Michigan Press Association's Better News Contest.
---
Overlooked and (Often) Underpaid
A project on caregiving and mental wellness of the Southwest Michigan Journalism Collaborative and the New York and Michigan Solutions Journalism Collaborative – a partnership of news and community organizations dedicated to rigorous and compelling reporting about successful responses to social problems. The groups are supported in part by the Solutions Journalism Network.
A teenager and her mom with leukemia. A daughter and her mom and husband with cancer and father with Parkinson's disease. An overworked nurse and heartbreaking patient loss. In southwest Michigan and across the country, the very people who care for others are shouldering more of the burden than the should, often underpaid – if compensated at all – and without enough support for the toll it takes on their mental health.
---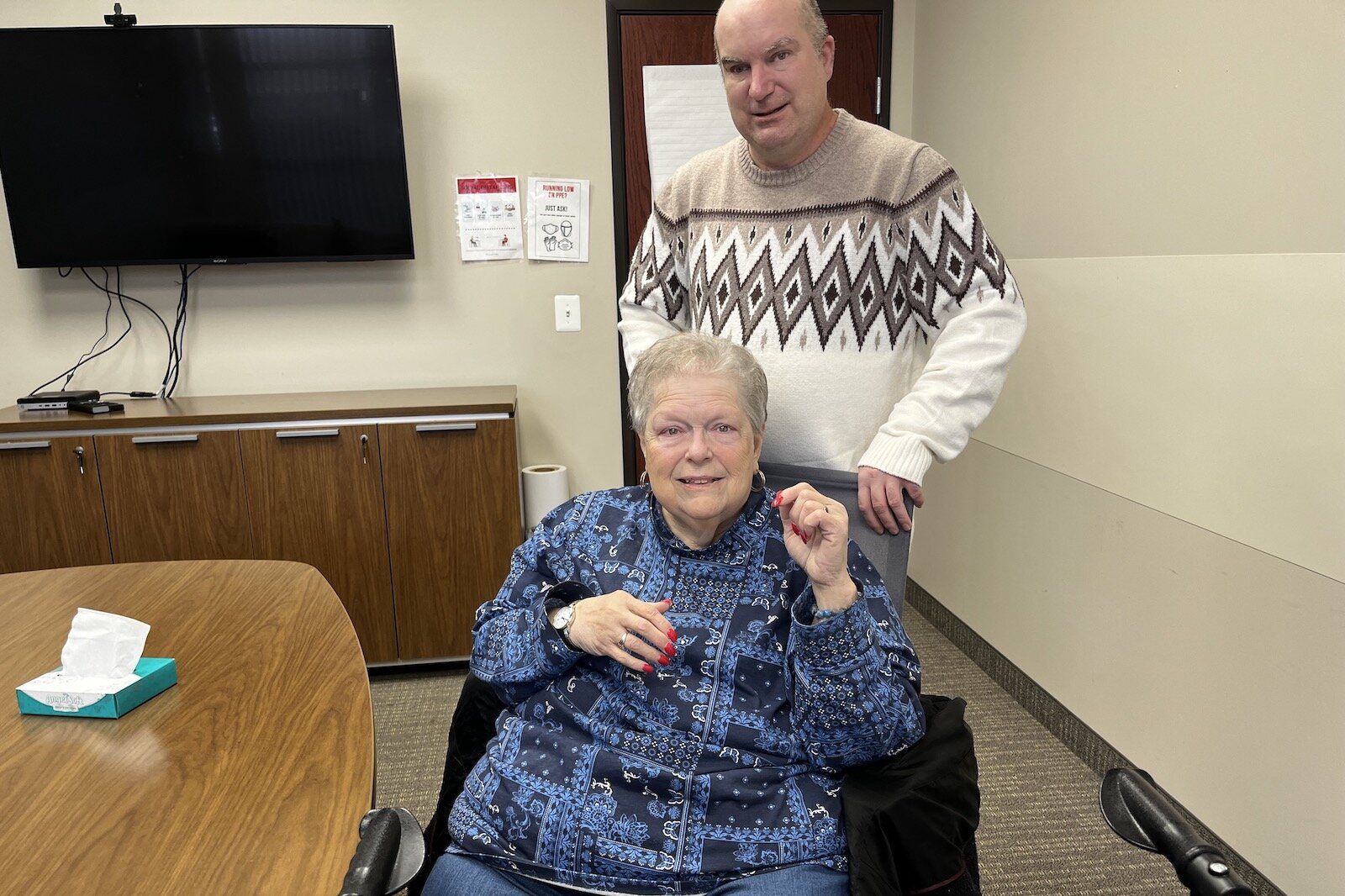 Through PACE, Judith Wright, a 76-year-old diabetic with anemia and limited mobility, has received all kinds of free help — adult incontinence products, an electric lift chair, a bed rail, eyeglasses and other accommodations. She takes 17 medicines, all free through the program. "If we had to pay for everything they've given us, we'd be living out of my car," her son said.
---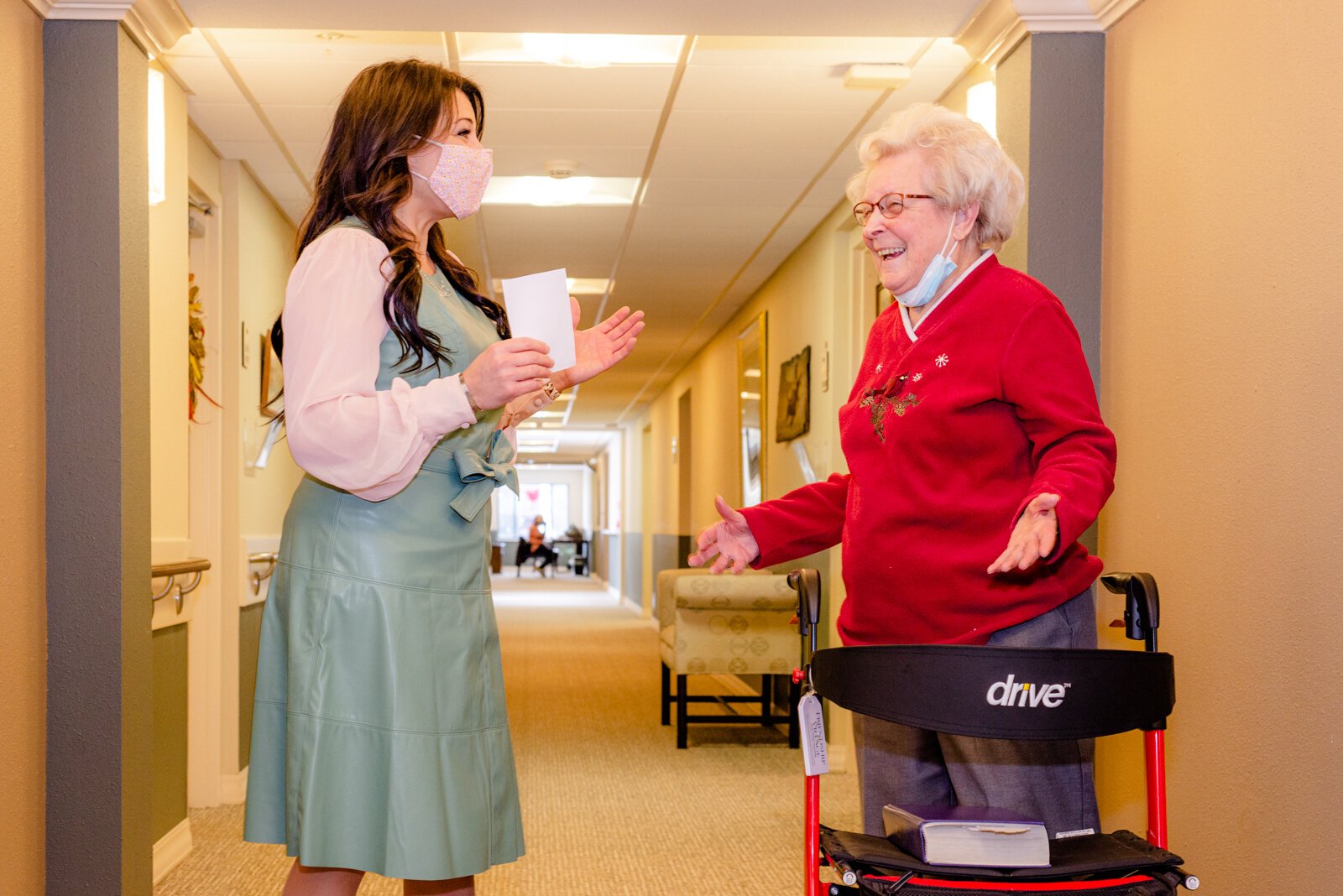 Caregiver burnout has been a growing problem, especially since the COVID-19 pandemic when hospitals, skilled nursing facilities, and senior communities have been overwhelmed. Successful support programs to ensure caregiver health includes access to professional counseling and therapy, recognition and awards, open-door policies to leadership, time and space to decompress, and team bonding.
---
One in five American adults serves as an unpaid caregiver for family members or other individuals with physical or mental health issues. "There are not great supports out there for caregivers," and that's especially true for teenagers and young adults cast in that role, said Susan Davis, a supervisor with Family & Children Services. But now there's an app for that.
---
More News You Need To Know
Arena could bring WMU sports, K-Wings downtown
Local leaders hailed the announcement of plans to build an arena and event center in downtown Kalamazoo as a "game changer" that could draw hundreds of thousands of people to the city center each year. Sporting events could be a large part of that draw. Athletics officials at Western Michigan University said that their hockey and basketball teams may consider moving games to the new space once it gets up and running. Athletics Director Dan Bartholomae said the university's current facilities just aren't cutting it. "I can tell you that right now, the experience they're having in these facilities is among the worst in our conferences," Bartholomae told WOOD TV8. "We've got to solve that." WMU's basketball team currently plays at Read Fieldhouse, which it shares with several other sports.
Kalamazoo's pro ice hockey team, the K-Wings, are also expected to move downtown once an arena is built. Greenleaf Hospitality Group owns both the Kalamazoo Wings and the Wings Event Center where they play. "Moving the Kalamazoo Wings into a brand-new facility would enhance the fan experience," Greenleaf CEO Tim Rayman said in a press release. [WOOD]
Sludge hauling is getting expensive
On Monday, the Kalamazoo City Commission agreed to spend $40 million on a three year contract to haul away "sludge." That's a lot of money, and city leaders are worried that it's just going to keep getting more and more expensive. Sludge is the name used for the solid waste left over after the city treats wastewater. All that sludge has to go somewhere and the city pays companies to haul it to landfills on the other side of the state. In 2018, it cost the city about $4.5 million each year for the service. With the latest contract, that price has almost tripled.
Part of the problem is PFAS. So-called "forever chemicals" in the wastewater are hard to deal with and even harder to dispose of. Recent regulations in how PFAS can be handled have driven up costs, as has the price of fuel. The city has tried things to reduce those costs, including putting the sludge through giant centrifuges to remove water thus reducing the cost to haul what's left. Leaders are looking at other options as well. The city is putting out a request for information in April to try and drum up ideas for how to better manage all the waste. [MLive]
---
Things To Do In Kalamazoo
Indoor Plant Magic – Climate Emergency Month
10:00AM 3/23
Immanuel Wilkins Presentation – Douglass Community Association
5:30PM 3/23
What the Lady Bears Were Doing: Women, Music and the 1950s – Kalamazoo Institute of Arts
6:00PM 3/23
KalaSalon: My Idea – A Guide to Bring Your Vision to Light – Green Door Distilling Co.
6:30PM 3/23
Twin Apocalyptic Threats: The Nexus Between the Climate Crisis and Nuclear Weapons – Climate Emergency Month
7:00PM 3/23
Southwestern Michigan Vocal Festival – Miller Auditorium
7:00PM 3/23
On The Town – WMU, Williams Theatre
7:30pm 3/23-25; 2pm 3/26
Becoming Dr. Ruth – Farmers Alley Theatre
7:30pm 3/23-25; 2pm 3/26
13th Annual Women's Lifestyle Expo – Kalamazoo County Expo Center
12pm 3/24, 9am 3/25
University Symposium: The Future Starts with You – Kalamazoo Institute of Arts
1:00PM 3/24
Immanuel Wilkins Master Class – WMU, Dalton Center
2:00PM 3/24
Hip Hop with Speak It Forward – Kalamazoo Public Library, Alma Powell
3:30PM 3/24
Huge Guitar Basement Blowout Sale – Milwood United Methodist Church
4:00PM 3/24
Board Game Night – this is a bookstore | Bookbug
5:00PM 3/24
Board Game Night at Table of Contents – this is a bookstore | Bookbug
5:00PM 3/24
Art Detectives: Secret Pizza Party – Kalamazoo Institute of Arts
5:30PM 3/24
Music with Steve Kamerling – Brick + Brine
6:00PM 3/24
Tim. Just Tim. – The Distant Whistle Brewhouse
6:00PM 3/24
Blunder Bus wsg Canned Champagne – Dormouse Theatre
7:30PM 3/24
Morning's at Seven – Kalamazoo Civic Theatre
7:30pm 3/24-25; 2pm 3/26
Indigo Girls WSG Lilli Lewis – Kalamazoo State Theatre
7:30PM 3/24
Immanuel Wilkins Quartet – Fontana
7:30PM 3/24
The Insiders: Tom Petty Tribute – Bell's Eccentric Cafe
8:00PM 3/24
Tony Fields & Doug Decker – Louie's Trophy House
8:00PM 3/24
KEVA Electric Vehicle Show – Climate Emergency Month
9:00AM 3/25
Art, Music, and Feminism Symposium – Kalamazoo Institute of Arts
10:00AM 3/25
What is Kalamazoo's Culture? – The Kalamazoo Lyceum
2:00PM 3/25
Dragons and Mythical Beasts – Miller Auditorium
2:00PM 3/25
Slow Bell Trio – Kalamazoo Valley Museum
2:30PM 3/25
Poets in Print: Benjamín Naka-Hasebe Kingsley and Alen Hamza – Kalamazoo Book Arts Center
7:00PM 3/25
Emma Rey Duo – Green Door Distilling Co.
7:00PM 3/25
The Crosses(ex Die Kreuzen),Death in Custody,Elder Gods,Silicon Heartbeat – Papa Pete's
7:00PM 3/25
Mustard Plug w/ The Mushmen, Dance Contraption – Bell's Eccentric Cafe
8:00PM 3/25
See more upcoming events here.
Suggest something to do: [email protected]
---
Thank you to the community institutions that support our work:
Do you find value in our locally owned and independent news? Keep it coming with a donation.
OR
Support NowKalamazoo for free: Forward this email to others who value community news coverage.